Storage
An Overview
As the repositories of information that sustain institutions and enterprises, storage devices are at the center of modern network designs. High-speed access and high availability of stored data are now critical for both internal business operations and external e-commerce applications.
We know the data explosion, both online and offline, as well as the resulting opportunities and challenges. Gigabit networks, terabyte disk capacities, virtualization and clustering technologies, coupled with advances in data management and transport software, have ushered a new era of reliable, secure and easy-to-use systems. Enhanced storage systems, distributed data centers, and software to enhance classification, Information Lifecycle Management (ILM), and management of huge data repositories are driving new product innovations.
Globally, the storage industry is going through many changes due to these innovations, industry consolidation and the growing market demand in both developed and emerging markets. Consequently, the challenge for storage vendors is in terms of time to market, interoperability with other products in the market and conformance to various evolving standards. Symphony Services has evolved in-depth experience in meeting the challenges and demands of various data storage devices and systems.
Storage Solutions from Symphony Services
Storage Systems is one of the strongest areas of domain expertise at Symphony Services. More than 25% of our clients are network storage companies, ranging from large public companies such as BMC and Network Appliance to smaller start ups such as Intransa and Mimosa Systems.
At Symphony Services, the Enterprise Technology Business Unit (ETBU) addresses all business needs of end-to-end product development for companies in storage, systems and security market. Symphony Services has built deep storage domain expertise while working with 15+ well established & start-up clients from the storage domain. The Storage & Information Lifecycle Management (ILM) Practice is 750+ people strong and has ### years of product engineering and R&D; experience with strong focus on the storage space. A recognized name in the storage space, Symphony Services started the local "Storage Network User Group" (SNUG) chapter (for Pune, India) and is a "Thought Leader" for ILM. Symphony Services has also developed numerous award winning products in the content/information management space.
Leveraging on our extensive domain and technical expertise which is backed by proven delivery model, Symphony Services partners with leading storage vendors in developing and sustaining data center class storage products and solutions - from architecture, design, and development of storage products, sustenance engineering of enterprise storage products, to solutions that help storage products achieve SMI-S compliance. Symphony has ready to use storage software components that may be used to cut down cycle time in development of new storage management and storage networking software solutions. We also offer highly customized outsourced software development services in all areas like File System, Replication, De-duplication, Data Protection, Email Archival, Clustering and Application Recovery-Discovery and Content Indexing, Storage.
A Partner in Storage Transformation
Symphony Services provides industry niche and valuable services which contributes in achieving your business objectives for new product development and product enhancements. Various leading storage superpowers have achieved significant benefits like:
Reduction in product development and R&D; cost by ~30%
More focus on core business areas as Symphony plays a role of visionary to respond quickly to changes in product and market trends
Achieved Higher ROI by leveraging engineering experts with 'Product Mind Set' having right technology skills & business domain knowledge
Minimized IT management cost by savings approximately 30-35% testing efforts
Shortened product's time to market by as much as 30% resulting in earlier financial realization & competitive advantage
Leverage residual storage knowledge & best practices derived from previous engagements resulting in superior quality products and enhanced business functionality
Assurance of outcome certainty from their engineering organizations and deliver market-leading products to drive their success
Storage Solutions from Symphony Services
Symphony Services provides a complete range of product lifecycle services including Research & Evaluation, Framework Design, Hardware Design, System Development, Verification & Validation, Reengineering and Sustenance/Maintenance, across various storage domains.
The main focus areas for the storage practice include:
Backup
Email Archiving
NAS
Replication
E Discovery
Storage Management
Virtualization
The highly skilled and experienced technical team is proficient in leveraging Symphony's deep domain knowledge, technical competencies and mature processes along with the flexible engagement models, delivers hi-tech solutions and services to a host of clients across the Storage, Networks & Computing value chain.
We have proven experience and delivered world class products on the following Platform and Software Stack:
Windows, Linux, Solaris, HPUX, AIX, Mac OS
Device Drivers, Kernel/ Systems Programming, Embedded Linux, Application Security
Appliance Based Solutions
Kernel, middleware, GUI, enterprise client-server, Web technologies
Applications such as Microsoft Exchange
The Symphony Differentiator
We are working with 8 of top 10 product leaders in this segment
Team of 400+ Engineers (Including Archiving)
Profound experience in CDP, Enterprise Backup, Application / FS Specific Agents
Hosted Backup Services (SaaS), Virtual Tape Library and De-Dup
Expertise in migration, Replication, Disaster Recovery
VTL and Protocol expertise (NDMP)
Performs more than 80% product testing in Symphony
Average induction time - 1.2 months
Delivery Track record
Average defect resolution time 2.93 days
Average defect fixing accuracy 98%
98% 1st contact resolution for phone support, 85 % for e-mail
More than 98% incidents closed successfully
Call abandon rate is down to 2.5% from 7.5%

Quotes

Greg NiCastro
Executive Vice President, Integrated Solutions & Development, Iron Mountain.
""Iron Mountain Digital, our fast growing digital data protection and electronic records management business, saw the value of partnering with leaders like Symphony a few years back and innovative products like our Connected DataProtector/PC have benefited from the partnership. Going forward, Iron Mountain Digital and our entire Iron Mountain development organization's multi-shore strategy will benefit from a broader and deeper relationship with high-end partners like Symphony.""

Symphony Webcast Series
Storage Market Dynamics and Global Product Innovation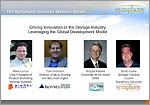 The storage market is one of the most dynamic segments of the software industry. Join industry thought leaders from the SNIA, Iron Mountain Digital and Mimosa Systems as they discuss the latest trends, issues and their experiences in leveraging globally distributed development environments.
---