Engagement Models
Flexible Engagement Models for Optimal Results
Symphony Services works with our clients in a variety of engagement styles to meet their specific needs. Consulting engagements are different than ongoing development or support. Major R&D initiatives require staffing of high level experts for a defined period of time. Symphony provides a truly global delivery model bringing resources from the United States, Europe, India and China to bear to a customer situation as appropriate.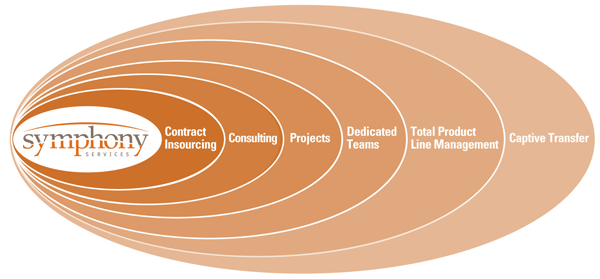 Engineering Outcome Certainty: The focus is on outcomes aligned to the client's business goals.
Contract Insourcing: Specialized engineering resources join your team
Consulting: The right mix of experts answer your strategic technology questions
Projects: Teams suited for all or part of the product lifecycle take on discrete projects
Dedicated Teams: Purpose-built Global Operating Centers extend your R&D; teams on an ongoing basis
Total Product Line Management: We take on full lifecycle and service responsibility for an individual product or product line
Contract Insourcing: Specialized engineering resources join your team
Captive Operations Transfers: Many companies struggle to keep captive operations productive. Symphony can take responsibility for your captive operation, revitalize performance and solve issues around economies of scale, productivity and attrition

Testimonials
BMC

Dayon Kane Director and General Manager, BMC Legacy Product Business Unit
"The joint-development and incentive-based nature of our agreement with Symphony provides a strong advantage in the marketplace for BMC. Our customers will benefit from continued product innovation through co-development with a leading services organization, and BMC will maximize the business performance of selected products that are entering the mature stage of their life-cycle."
MIMOSA SYSTEMS

T.M. Ravi Founder and CEO, Mimosa Systems excerpt from "Close Collaboration," CIO Decisions, July 2005
"We expected that the efficiencies would be different between one person here and one in India. We expected maybe 75% efficiency, but [with Symphony Services] we find it 100% or better. With the right planning, the offshore-onshore hybrid is very scalable, cost effective and robust for companies of any size."