Symphony Services' Inside Innovation podcast series explores the inner workings of global innovation ecosystems. Today, more than ever, any company in any industry or business has a sharp focus on innovation in order to remain competitive. Innovation is no longer just a term that every organization is giving lip-service to; it is critical to their ability to deliver significant value through new product, services, or solutions, by leveraging a global ecosystem. This series explores global innovation processes, profiles technologies and emerging best practices, and talks with industry innovators who are pioneering successful ecosystems - all of which are leading to the creation of value.
Subscribe to Symphony Services Podcast Series
---
Innovation and Product Engineering
Innovation is the fundamental source of sustainable value manifested by new revenue streams and higher profits. Dr. Jerry Smith, Symphony's CTO, talks about innovation, R&D performance and the role of global product development and engineering.
---
The Vitality Index (VI)
Measuring the impact that innovation programs have on organizational value is extremely important. Traditional measures are ineffective and a new measurement approach is needed, one that correlates activity to value.
---
Managed Innovation
Innovation just doesn't happen, it is a managed process. We are going to take a look at the process of innovation, from critical characteristics to toolboxes.
Resources
An Innovation Checklist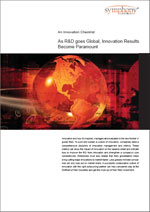 Download Symphony Services latest white paper to learn about trends and best practices in establishing global innovation networks.


---


Quote
Podcast Series Host
Dr. Jerry Smith, Chief Technology Officer, Symphony Services
"Innovation has become a 'hype' word for most. But enterprises that embrace R&D globalization and create strong global ecosystems are bringing cutting edge innovations to market faster, while their less globally-minded competitors lose market share."